Partnership Ecosystem & Platform Strategy
What's with the name?
Why Hockey Stick? Do you play hockey? The origin & the answer is quite simple, find out more below.
---
A lot of people immediately are wondering: "What's with the name?" It's a fair question - especially given that we're not a hockey company. We don't play hockey of any sort, besides a few years of a largely unsuccessful stint of grass hockey in high school in country NSW, many moons ago, which often led to bruises, bumps and injuries.
Hockey Stick growth is a commonly used tech term, often observed on a quick fire napkin drawing or slide deck of growth over time featured on business plans of bold founders aspirations of their companies global ambitions & capability, commonly seen as a graph with a sharp right hand upwards *hockey stick shaped* growth curve to the right.
Ask any founder and they will chuckle at the lighthearted aspirations of this concept vs. the reality of how hard it is to achieve.
So as you see the answer is quite simple. We chose the name because it represents our mission and vision perfectly.
Hockey Stick Advisory exists to help SaaS businesses to grow & scale through building curated partnership ecosystems, so that they can reach their full potential, faster.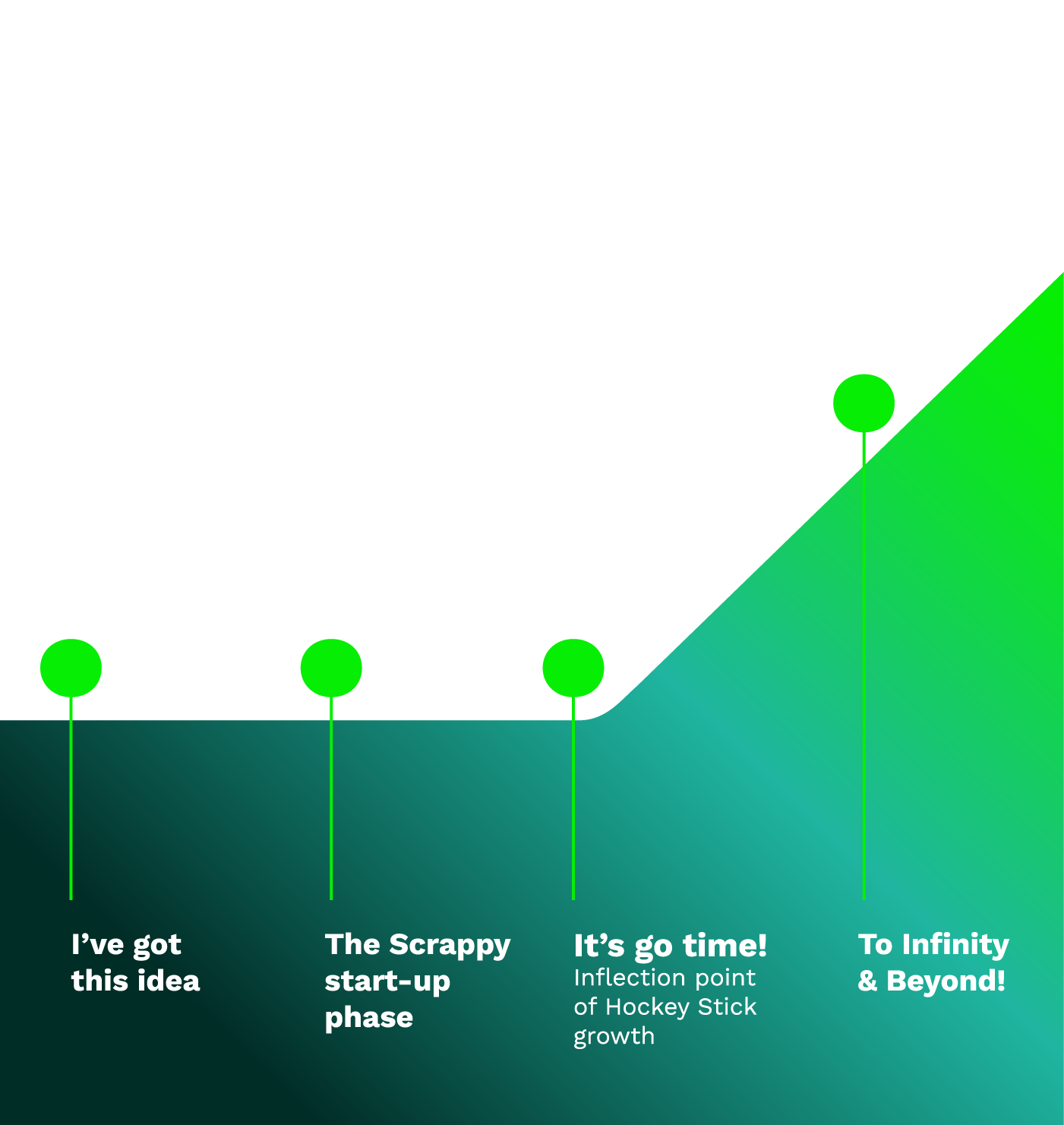 Stages of Hockey Stick Growth


I've got this idea where startups are incubated and make the transition to take their business idea beyond just an idea. Founders need to take a risk, back themselves in pursuit of what problem they are aiming to solve and go all in to start to bring their idea to life to create a business.
The Scrappy start-up phase: Founders with big visions solving unique problems working tirelessly to bring their aspirations to life. This stage can be pre-revenue, VC or investment backed or bootstrapped in order to *keep the lights on*

This is an ideal phase to start to map out your ideal future state of what your partnership ecosystem would look like, and where your value prop fits in.
It's go time! Inflection point of Hockey Stick Growth: This is where everything starts to come together with product market fit, channels & new regions expanding, and you are able to unlock scale. However, it is no easy feat to get this rate of trajectory going. Many SaaS businesses that can get this stage going, are overnight successes, MANY years in the making.

This is where something in your startup "clicks". Your business model is sharpened, your revenue accelerates, operational efficiencies kick in and you're able to begin to scale your company.

At this stage you will likely have an incredibly long list of *things to do* and saying NO to as many as possible will ensure you stay focused, on track & moving forwards. And the good news iis, you don't have to do it all. You can amplify your partnership ecosystem approach to work together to provide great customer outcomes.
To Infinity & Beyond! the hopes and dreams of many founders to reach this point, where you have critical mass, customers flowing, network effects at play and high customer NPS.
Companies often either build, buy or partner to expand their offerings over time, all with various implications in all facets of the business depending on their stage of growth & traction. Earlier stage companies often won't have a deep value proposition of a wide feature set, meaning enabling impactful partnerships and establishing an ecosystem is a critical strategic asset to drive great customer outcomes and establish product market fit.

My belief and purpose is to help aspiring companies realise that they don't have to grow alone. They can create impactful partnerships, develop & curate an ecosystem, and evolve to a platform to create a win-win-win scenario.
A win for their company, a win for their mutual partners, and best of all a massive win for their mutual customers through improved connected offerings, improved customer satisfaction and great outcomes.
And in doing so, they can reach their lofty aspirations faster.

If you would like to explore if we would be a good fit to help you go faster, reach out below.

https://hockeystickadvisory.com/contact