Why Hockey Stick?
In case you're wondering, I don't play hockey of any sorts, besides a few years of a largely unsuccessful stint of grass hockey in high school in country NSW, many moons ago, which often led to bruises, bumps and injuries.
What's with the name?
Hockey Stick Growth
Hockey Stick growth is a commonly used tech term, often observed on a quick fire napkin drawing or slide deck of business plans of bold founders aspirations of their companies global ambitions & capability, commonly seen as a graph with a sharp right hand upwards *hockey stick shaped* growth curve to the right.
Ask any founder and they will chuckle at the lighthearted aspirations of this concept vs. the reality of how hard it is to achieve.
So as you see the answer is quite simple. We chose the name because it represents our mission and vision perfectly.
Hockey Stick Advisory exists to help SaaS businesses to grow & scale through building curated partnership ecosystems, so that they can reach their full potential, faster.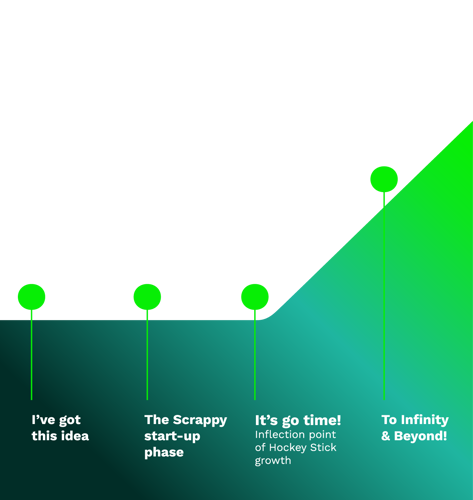 PURPOSE
They Don't Have To Grow Alone
Companies don't have to go it alone. They can create impactful partnerships, develop & curate an ecosystem, and evolve to a platform to create a win-win-win scenario.
A win for their company, a win for their mutual partners, and best of all a massive win for their mutual customers, through improved connected offerings, improved customer satisfaction unlocking great outcomes.

Insights-led holistic advisory
Deep and comprehensive understanding of platform growth levers, local and global trends - conduit between thought-leaders and the real-world experience of hundreds of SaaS companies

Delivery focused outcomes:
Translates advice into actions, with an ability to provide an objective assessment of current capabilities against what is required, and coach internal teams on building impactful partnerships (where applicable)

Trust is the new data
Provide honest, objective advice based on deep knowledge and understanding of best-in-class methodologies to help growing companies avoid pitfalls and realise their ambitions.

Connected
Harness our deep network of platform orchestrators, contributors and competitors locally and globally to add further value and unlock opportunities ahead.
Get In Touch
We're experts at what we do, and we're passionate about helping our clients grow and scale through a partnership ecosystem-led approach. We'll work with you to understand your challenges and help you develop a bespoke strategy that will maximise your growth potential.
Get in touch today and let's chat about how we can help you achieve your goals, faster.